1990
April   Friedrich Sommer – Swiss Cheese Maker starts 2 year contract at Swissfields
1992
  Swissfields wins Albury Wodonga Rotary Business Award   (Manufacturing)
Visitors factory viewing gallery built
Oct – Haberfields Community Fund – $10,000 to Australian Olympic Committee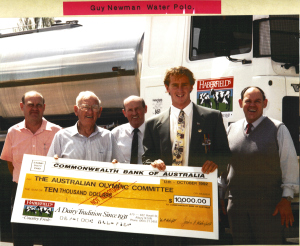 Dec – J.N.H. takes leave prior to retiring – David Haberfield transfers to Marketing.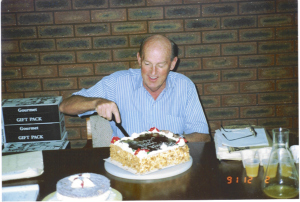 1993
Kiewa Milk back in Albury market after M.G. ends agreement with NSW Dairy Authority.
Jock Haberfield receives Albury Council Citizenship award
June – JNH retires retains directorship.
1994
4th Milk storage silo – 150,000 l. ss skin Byford
Community Fund – $5,000 each to Wodonga & Albury Base Hospitals
Death of Jock Haberfield – 17th May 1994 – aged 86 years
1995
   Jan – David Haberfield appointed as Director of Haberfields Milk Pty.Ltd.
Feb. – Purchase of land and coolstores in Carcoola St Albury from Petersville Ltd –
March – Purchase of 468 Hovell Street (Merv Quast)
Aug – England cheese pressing tower installed
Sept – Curdmaster double O cheese vats 22,000 litres