Gundagai
In February 1970 Haberfields commence supplying Gundagai milk vendor Neville Hand but by September 1970 the Dairy Industry Authority of NSW declared it to be a milk zone, forcing Haberfields to withdraw.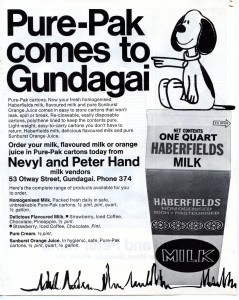 In July 1970 Haberfields wins High Court case regarding interstate milk trade in Victoria
Milk in Plastic Sachets
November 1971 one and two pint Plastic sachets of milk are introduced to be an alternative to glass bottles.
New Cold room being built in 1971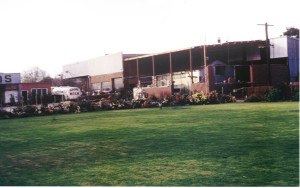 December 1972 The Haberfield partnership is converted to two private companies,
Haberfield Milk Pty Ltd a manufacturing and processing company and
Haberfields Dairy Pty Ltd a distribution company.
Soon after a computerised financial accountings system is developed with a newly formed Albury Computer Centre processing  the data.
Compulsory Pasteurisation of milk in NSW commences.
Haberfields commences packing milk for Reuss and Lemke family milk runs who previously sold raw milk.
May 1973
Bell Siro Cheese machine installed reducing the heavy labour content of milling, salting and hooping cheese curd.
 November 1973
Rationalisation of trade with Murray Goulburn.
Haberfields withdraws market milk from Victoria.
Haberfields commence farm milk pick up from the Barooga, Finley irrigation area.
 January 1974
School milk scheme ends
 March 1974 the NSW Dairy Industry Authority proclaims Albury area.
Haberfields become their agent but Kiewa continues to sell milk using Section 92 of the Constitution at reduced prices.
1975 Change  from Imperial to metric system.
All packaging changed, bottle to 600ml with 38mm caps, cartons to 300ml, 600ml, and 1 litre requiring the conversion of all packing and filling machines.
   May 1975
Haberfields wins 2.5% of the newly formed ACT Milk Authority market milk requirement.
1977 Retail Milk runs are leased to drivers and afternoon retail deliveries begin.
March 1979 Boilers converted to Natural Gas.
1979 ACT Milk Authority supply rises to 6%
Study to relocate factory to new site.
In August 1979 The NSW Department of Decentralisation in conjunction with the Country Industries Assistant Commission granted Haberfields funds to carry out a feasibility study to develop a new factory complex to the replace the David Street operation. The study was completed by G Ingram and Civil and Civic recommending a site on the Hume Highway at Lavington complete with plans and financials for the project however the project was put on hold and never proceeded.